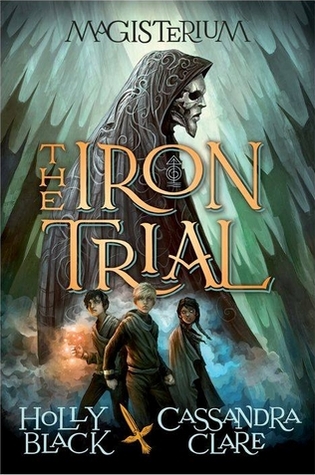 I am truly awful! But between my job, my second job, and my third job, and then trying to be a wife I lost my will to blog for a while. But, thankfully I kept reading. So let's get to the review shall we. Okay!
This book was a little bit younger than I had anticipated, but fairy tales are for every age and I truly LOVED IT! Clare and Black's Magisterium 5 book series took off Sept. 9. I naturally bought the book that day. I read it the next two then promptly passed it off to my 12-year old brother to read.
You follow the story of Callum Hunt who is a troubled, actually disabled 12-year-old with a dark past and distant father. Callum's father, Alistair, attempts to keep Call out of the reach of magic which tragically took the life of his mother. But nothing is as it seems. Call must complete The Iron Trial before he can be dismissed from having to go to the Magisterium, a magical school for mage training. And if I keep going, I'll give away all of the book.
It definitely has a very Harry-Potter-esque feel to it, magical school, war against a dark mage, but it is not a copy cat. It is a new story all it's own. It's dark, twisty, and exciting. Things keep going so wrong for Call and you stick with him to see how he can overcome it, if he can. This book takes your usual character stereotypes and archetypes and all of that and promptly tosses them right out of the window. It's fresh and new and ropes you in. In true Clare fashion, there's a twist at the end that you never see coming. I promise you, nothing you guess is right. It will blow your mind! I am excited to see where Call is in the next book that hopefully comes out sometime next year! This is a must read for ALL ages! A true classic in the making, I feel!
-Kelly